The Beretta 1301
When it comes to modern semi auto shotguns, option overload is a thing. Prices range wildly, from entry level to a mortgage payment. Today we will discuss one option in particular that, while expensive, is stacked in the value department. The Beretta 1301 tactical.
When I was growing up, my grandfather was full of one off advice. One such anecdote went as such, " if you're buying a gas saver, always go Japanese. If you're buying a working truck, buy American. If you're buying a shotgun, can't go wrong with Italian." Many of these sayings I have found to carry merit, the last one especially so.
So what makes the 1301 tactical so much better than its peers? In short it's an addition equation more than anything. Ergonomics, excellent. Aesthetics, that's a check. Reliability, phenomenal. The same can be said about other shotguns at a lesser price point, but few have all of them.
My experience with the 1301 has been very good in my sample size of 1. The first thing I noticed upon the first handling of the gun was how light it was. Honestly I was not looking forward to shooting it due to the laws of physics. Light shotguns regularly equate to sore shoulders with a heavy firing schedule. However, I am happy to report that the recoil impulse was very smooth, extremely linear, and surprisingly soft considering weight. Color me surprised.
At this point in time, I have shot somewhere in the neighborhood of 3500 rounds of assorted ammunition through the 1301. I can count on one hand the number of stoppages I have experienced. I've run it dirty, in the cold, in the heat, and the 1301 chugs through it all unscathed. Basic cleaning and lubricating was the only  maintenance performed.
Aftermarket parts for the 1301 tactical are available and usually in stock. I particularly enjoy the Aridus Industries line of products, and have several parts on my shotgun. Be careful though, modifying this shotgun is addicting.
I have had many people ask me for my thoughts on the 1301 tactical. My opinion can be summed up quite simply, "buy with no reservations." I have found it to be a lightning fast cycling, ultra reliable, and overall enjoyable shotgun to use. It has quickly become one of the firearms that always seems to find its way in my range bag when I leave the house.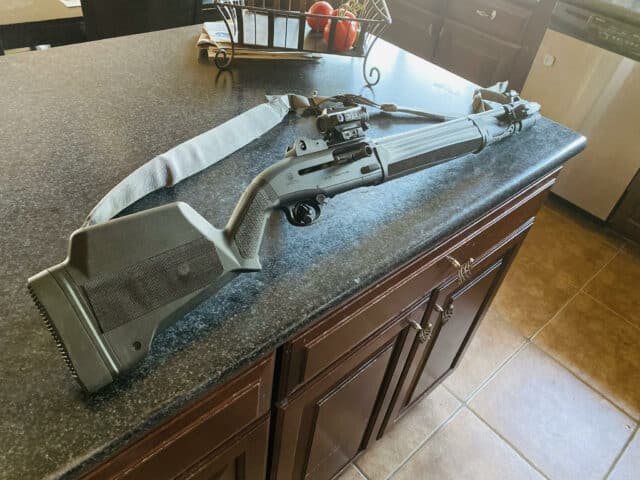 Photography by Joe Lutrario