---
It takes years of consistent work and effort. Once achieved, a new journey begins. The responsibility should be clear. Passing on the experience and knowledge to those who are on the journey and in need of a teacher. For some this may be a burden, others a delight. In reality it's a lot of both.
It's not nearly enough to just pass on technique, it's not nearly enough to show what it takes to win a championship, it's definitely not right to be a selfish player in a sport, and it certainly is unacceptable to just take the character, the knowledge and hide it away from all those who seek it. The only thing that's acceptable is to be a commander, a coach and of course a teacher.
You see, Jiu Jitsu is a lifelong journey. It's a "Triade", a word from French origin meaning a trinity, a triangle. One side of the Triade is the self-defense aspect. Jiu Jitsu was developed as a means of self-protection. A way a person can defend themselves in a real life- threatening situation. We all know the stories of how Master Helio developed BJJ for people like himself. A smaller weaker person can be capable of fending off a much larger, stronger assailant. Without this angle there is no second one, which is the sport aspect of Jiu Jitsu. A way for one to test and hone their skills in a non-lethal manor. An arena where technique and sportsmanship come together to raise each other up and aide in the development of everyone's "game". That's exactly what this angle is…a game.
These two angels sit atop of the third angle, a base which is called character. This base is the one that holds all three angles together. Not only does it prevent warriors and athletes from tearing each other a part, it teaches us how to be the best person we can be in all aspects of our lives. As we march through this sojourn we call BJJ, we learn from our training certain tools. Tools that teach us, prepare us and most importantly build us.  The base of this Triade gives us the experience and knowledge to be able to set the right example to all those who we come in contact with. It carries the load of enabling us to be the best commander and warrior, the best coach and the very best teacher of life's values on and off the mat with the purest of heart. 
Without the proper AND equal development of each of these angles we lose the perfect, purest system of growth. As a Professor, it is our fundamental duty to ensure that each student grows and develops their own perfect Triade so they can some day pass that perfection on. Without the proper training in all three aspects of Jiu Jitsu one can never fully develop and what a selfish tragedy that would be.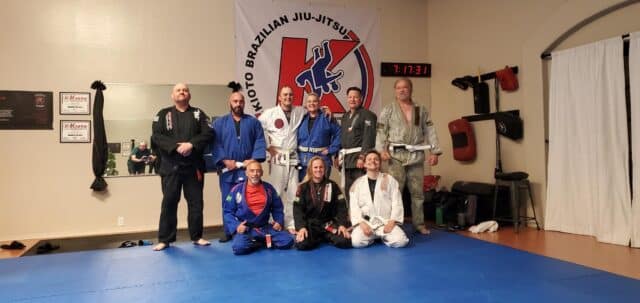 Photo by Mike Kovacs
---