---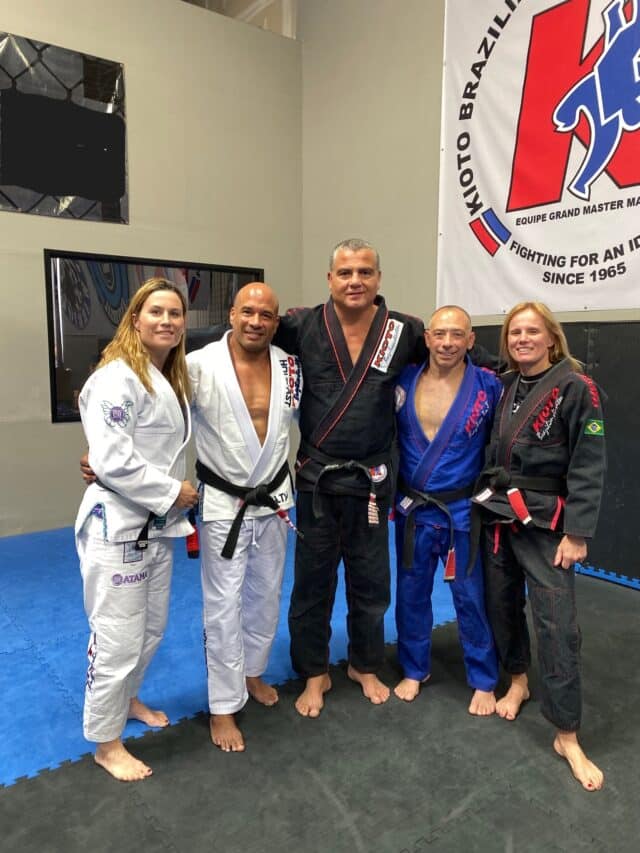 The BJJ academy has many "classrooms", from the vestibules, the mats, to the locker-rooms. The people we meet in the vestibule are encouraging and delightful. The education we get on the mat is priceless. We all know the value of a great teacher and mentor. On a personal note, that is why I hold my professor, Milton Regis 6th degree black belt, in such high regards. Yet there is something enormous to say about the atmosphere and friendship that is built in the locker room.
When people struggle, sweat and face their fears together, there is a strong and special relationship that is formed. An intimate bond so to speak. Coming from a man that can't remember what he ate for breakfast, let alone specific words spoken amongst a group of warriors, there is a deep feeling of peace, camaraderie, safety and vulnerability that one cannot ignore or forget.  
I have come to a point in my training where I finally realize that my opponent in front of me is not my only adversary. Just as a true warrior would never underestimate his physical obstacles, he would surely recognize and control the greatest obstacle of all…himself. We all can hear the little voice in our heads speaking to us before, during and after a fight. You know, the one that speaks volumes about how you "can't do this and you can't do that". 
We can sit back deny, ignore or flat out lie to ourselves and others, but that won't change the fact that it is our own worst enemy…and the most powerful one at that. Just as we come to master the basics of our game, we must also come to master the enemy within. This is a worthy and inevitable fight that all of us must conquer at one point in order to be successful. Only when one rises above and controls the demons of self doubt and self pity, can he grow to be the best he can be. Let me take it further, not just successfully grow on the mat, but to grow to extreme heights in all aspects of their lives. 
This is a battle that needs to be fought not alone, for the enemy within is too deceiving and too strong. Don't misunderstand me, it can and will be defeated. It will be conquered as a team. A legion of warriors, training and learning together on the mat. Meeting in the vestibules, exchanging handshakes and subtle hugs. Most importantly, it shall be defeated in the locker-rooms. Here, here is where we are at our strongest. Outside the pit of anguish which we call our minds, in the midst's of fighters, real friends who understand, share, encourage and most important believe in each other. Here is where lifelong bonds and pacts are made. Not just simply from voice boxes, but from ones gut and heart. The faith and belief we have in each other squelches the screams of self doubt. We hear only the whispers of our fellow fighters..Our friends. 
All people are born champions. However, it is only those who get tempered, molded and forged by the heat of battle that come to realize who they are and what they can achieve. We all reach the inevitability of this fight…rest assured my friends, I will be there standing side by side fighting with you, just as I pray that you stand beside me.
Photo by Mike Kovacs
---