---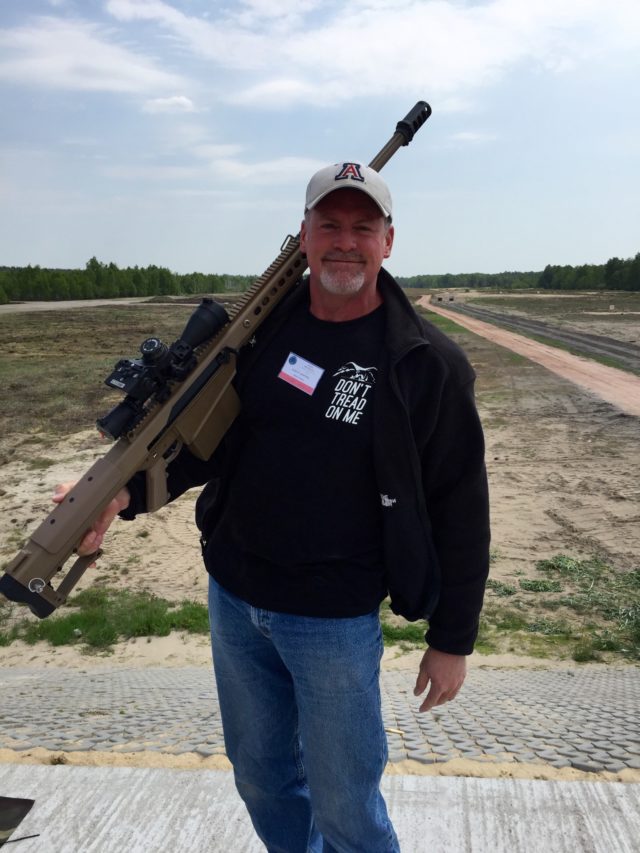 Movement
People have been shooting hand held weapons since the 13 th century, and the weapon has been moving
ever since. You're going to move when you shoot – whether you're using the Isosceles, Weaver,
offhand, or any other stance – the pistol will not be stable during the shooting sequence. Our goal
should be to not ADD to that natural movement by disrupting sight alignment or using poor trigger
control. Shooting within your natural movement will produce tight groups well within the capabilities of
almost any modern weapon. Let's accept that the pistol is moving, and deal with what we can control.
Sight alignment
Pistol sights are on the weapon to align the point of impact with the point of aim. We are all familiar
with the various types, but regardless of type, keeping them consistently aligned during the shooting
sequence is priority #1. Whether you're shooting IPSC or International Free Pistol, the first thing to
practice and perfect is your grip. The pistol must be comfortable (my Free Pistol has Bondo all over the
grip to create a perfect match for my hand), correctly sized, and naturally form a straight line from
forearm/hand/barrel of weapon. Any kind of physical discomfort, whether due to injury (my friend
broke his dominant wrist and has an unorthodox grip) or unnatural positioning will result in the body
resisting that position, which will cause subconscious movement away from it. This subconscious
movement away from a natural position causes added variation to our group…which is bad.
Some people love the 17° angle of the 1911, others love the 20° angle of a Glock, and all variations in
between. Be comfortable in your grip. The pistol should be an extension of your arm. It should raise
and be aligned without effort. If it isn't, you won't be able to consistently shoot with precision.
Here's your first practice lesson to maintain sight alignment: put a full-size target on a frame backwards
so that the white of the target is facing you. No bullseye, no silhouette, nothing but a white sheet
staring at you. Holding your pistol at the ready position (45-degree angle toward the ground), raise the
pistol quickly while looking down at the sights, and fire ONE round at the center of the blank white
background, and return to the ready position. Repeat this exercise 50 times – one full box of ammo.
You'll be surprised at the size of group you shot…all without an aiming point.
Trigger control
Since 1288, when that first guy tried to hold onto his hand cannon while stuffing a lit match down a hole
in the barrel, people have been trying to release rounds downrange without inducing more movement
in the pistol. Triggers have come a long way since then, from Matchlock's in the 16 th century to today's
ultra-precision two-stage set triggers and digital triggers, but one thing is the same: anticipation of a
shot still creates flinching, jerking, and movement of the pistol during the firing sequence and induces
MORE variability in our groups.
The first order of business is to make sure your pistol has a great trigger. Whether this is a trigger job
from a gunsmith, or an aftermarket trigger, or a combination of both, your pistol has to have a trigger
that is free from creep, roughness, or excessive pull weight. For tactical applications it is prudent to
have a heavier trigger pull of greater than 4 pounds, while precision shooting allows for much lighter
trigger pull within the rules of the discipline. In either case, a crisp clean trigger break is mandatory for
shooting with precision.
In releasing a shot, the trigger must be touched from the front and pulled backward toward the aiming
eye. It may seem simple to mention this, but you'd be surprised how many people I see on the range
with half their finger inserted in the trigger guard, pulling the trigger with the meat between their first
and second knuckle on their index finger, or barely touching the trigger with the very tip of their index
finger. Both of these mistakes induce sideways movement (right and left, respectively) and add
movement to an already moving pistol.
The area of your index finger between the tip and the first joint is a very sensitive instrument, and when
you place it against a trigger and start pulling, you'll be able to quickly tell how much effort you're
exerting. Pulling the trigger should be a steadily increasing application of pressure, rather than a one-
time flick of the finger. Simply add pressure slowly until you're surprised that the shot has gone off.
Releasing the trigger is one of the most difficult things a shooter can learn. It must be practiced over
and over thousands of times – whether on the range or dry firing at home – until it becomes
subconscious.
Here's your practice lesson to master trigger control: using a revolver with a nice trigger, do what is
called Ball and Dummy practice. Have your range buddy load your weapon for you using 2-3 rounds of
live ammo and 2-3 rounds of spent brass. Don't watch him load the weapon. Once he hands it to you,
start at the ready position, cock the weapon (shooting single action only), and raise it quickly to the
center of mass of your target and release the trigger. The pistol should not move if the hammer falls on
a chamber without a live round. If the pistol moves at all, any visible movement, continue practicing the
exercise until it doesn't. This could take years (kidding) but I guarantee that it'll take years to master
and to make subconscious.
The pistol is going to move – accept that fact. By making sure you don't ADD to that movement by
inconsistent sight alignment and poor trigger control you're going to start shooting with precision,
regardless of discipline. In our next article we will start talking about conscious versus sub-conscious
shooting – when shots should break and why.
---