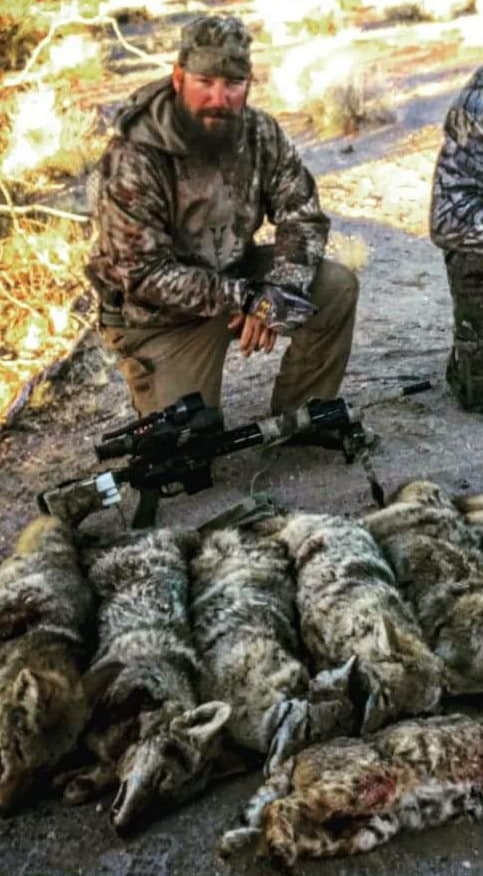 By Pete Francis
The great thing about the South West is the public land, if you go east you find its mostly private lands and this makes hunting for a beginner like I was pretty hard, as most people don't want you out in their hunting lands either. The down side is, where you might think an area is not hunted, it most likely has been.
You don't have to drive far to find a coyote, heck they most likely are living around your area no mater where you live now days in America. All it takes is a good Rifle; AR-15's are superb for Coyotes, with the .223 you can reach out, or with the modular design you can adapt a host of calibers to suit your needs. I personally like the 6.5 Grendel using the Hornady 123gr Black, it's a ELD projectile in match grade, so accuracy is great. Sub MOA at 100, and groups no larger than 2" at 200 yards.
I didn't grow up hunting at all, I ended up meeting a guy on social media, Dan Macdonald and we became really good friends over hunting, fishing and 4wd toys. He showed me the basics, got me lined up with the proper gear and really made it fun to go out and hunt. On our first trip, we went up north from Phoenix, AZ in April, only to find out it had snowed 4" in spring time, and we were defiantly dressed for spring time.
So, come forward 5 years, I have the pleasure to say I went from 3 or 4 coyotes that first year, to 106 coyotes in 2018 season. Hunting year around, although the summers out here a brutal as night time temperatures can stay in the 100+ degree range. Coyote hunting is better suited to Fall, Winter and Spring out this way in my opinion.
Traveling for work in the Pipeline industry, I get to see great expanses of the south west and really helps with finding new areas to hunt, whether it be Arizona, Nevada, or California, its not hard to find a Coyote. Using Lucky Duck Electronic callers with custom sounds from Rick Paillet, and Tony Tebbe, to using Hand Calls from Jason Mccameron at Rowdy Dog Custom Calls, as well as hand calls from Verminator Predator Calls, and Predator University. I have found great success in calling these smart coyotes in.
Some places in the South West allow for night hunting, When I moved up to Henderson, NV , I ended up meeting a gentleman by the name of Rick Arnold, he introduced me to night hunting and night vision. So being able to use some high tech digital night vision like the Accufire Noctis V1, paired with Sniper Hog Lights 66XLR for IR light and red lights really bring the coyote calling to a whole new level. Not only is the guy a phenomenal predator hunter, he is an excellent source of information and really goes out of his way to help people in the sport.
I get asked a lot, "Why do you hunt coyotes?". Its not just for sport, but more importantly its for conservation. Most Fawns of Deer, Elk, and Antelope fall victim to coyotes. Leading to low population of these animals that is very hard to recover from. As well, we have ranchers who supply beef, and make their hard earned dollar only to take huge losses during calfing season to these predators that are vastly abundant and extremely sharp at what they do.